Why do I need a Backup as a Service
Even if your hardware never fails, it doesn't follow that the information stored on your server is totally safe. There's always a chance you might lose something—inclement weather, cyber crime, or even a simple software bug could corrupt or destroy your files.
It's vital that you keep regular, complete backups of your data.
Cartika offers full disaster recovery support—even if you aren't one of our clients. With Cartika, you'll be able to backup virtually any operating system and database platform. When disaster does strike, you'll be fully prepared and able to get back up on your feet that much sooner.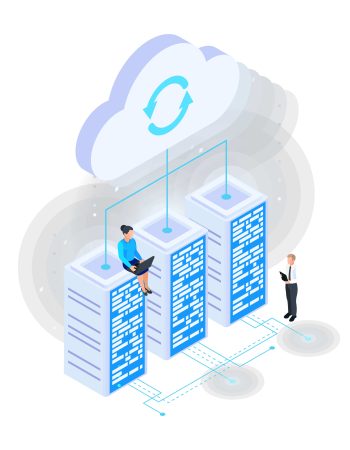 Here's What Our BaaS Module Can Do:
Whether you're hosting with Cartika or another organization, we offer a suite of options for both local and remote disaster recovery. Our cloud-based platform allows you to add a configurable disaster recovery solution directly to your server or virtual machine.  Your data is completely in your hands: our platform is entirely self-service—you have full freedom as to how your backups are stored and recovered.
Cartika clients can choose between onsite (through LAN) or offsite backup at any of our facilities; data from servers hosted elsewhere can stored on our powerful cloud network.
You can download individual files and  databases from your backups, allowing for granular restoration or replacement of data. In the event of total server or facility loss, you can even perform a remote Bare Metal Restore.
Configuration is a breeze. Using your Cartika Account portal, you can set up a disaster recovery solution to work exactly as you want it, without having to worry about compatibility.
Cartika's Backup-as-a-Service platform offers peace of mind for you and security for your data.
Interested? See below for details on pricing.
| SERVICE | PRICING (HOSTED WITH CARTIKA) | PRICING (HOSTED ELSEWHERE) | ADDITIONAL DETAILS |
| --- | --- | --- | --- |
| Backup servers and virtual machines | $3/month account fee, $4 per server or virtual machine; $0.10/GB in 100 GB increments | $10/month account fee, 8$ per server or virtual machine; $0.12/GB in 100 GB increments | Free for Proactive/Secured Management Clients Includes 15 daily backup/self-service restore points up to 500GB |
| Proactive/Secured Managed Customers | 15 daily restore points up to 500GB included | N/A | Additional 500GB and/or 15 restore points + $25/month Offsite replication of 15 restore points, up to 500GB +$25/month |
| Cloud VPS Snapshots | $0.10/GB in 50 GB increments | N/A | N/A |
START DOING THINGS BETTER
Your business deserves BOTH reliable infrastructure with guaranteed uptime and 24×7 support